The past several months have seen the Laneway Festival team hard at work, and it is with great pride that we unveil the main line-up for 2018.
As with previous years, the 2018 festival – also the 8th Laneway in Singapore – promises to be a full sensory experience for music fans, with a focus on the best new and established live acts in the game.
Asia is hot these days and we don't mean the weather. For Laneway Festival Singapore 2018, we have added a varied line-up of Asian artistes – eight groups from four countries (Indonesia, Malaysia, the Philippines and Singapore) to be exact.
From break-out bands to established entertainers, Laneway Singapore 2018 has them all. Foraging is our speciality and every year, we suss out the artistes to watch, so you don't have to. We've been doing this for eight years (yes, already!) and we hope we get better each time.
Laneway Festival Singapore 2018 (in alphabetical order):
alextbh – Amateur Takes Control – HEALS – MAS1A – Obedient Wives Club
THELIONCITYBOY – The Ransom Collective – Tim De Cotta
ALEXTBH Producing music from his early teens, 21-year-old ALEXTBH has since made his mark in Malaysia's electronic music scene with his brand of atmospheric music that merges dance electronic and R&B. In August 2016, the engineering student by day, producer by night released alive, a four-track experimental, electronic-meets-R&B EP citing artistes like Flume, James Blake and Jamie xx as major influences. It racked up more than 20,000 plays on Spotify in less than two months. The single, "alive", subsequently made its way onto Hitz.fm's Met10 chart.
AMATEUR TAKES CONTROL wears its heart on its sleeve. Its affirmation of independent DIY ethics, calling for the everyman to steer his own life, shouts out from its powerful, emotional music. The five-piece instrumental rock outfit launched its debut album, You, Me and the Things Unsaid, in 2008. The release was viewed as a landmark record, considering the short history of post-rock in Singapore. Fresh from a three-year hiatus, ATC will let loose ATC EP2on 26 December 2017. Noisier, darker and more aggressive: That's the ATC promise.
HEALS is an alternative rock / shoegaze / nu gaze band known for textured layers of distorted guitar riffs, unique sounds, effects and streams of soft yet melodious vocal. Its first single, "Void", created a wave in Indonesia upon its digital upload in 2014. A year later, HEALS landed a record deal which led to the release of B-sides in cassette format at Record Store Day 2016. Another milestone took place on 9 April 2017: HEALS launched its debut full album, Spectrum, a capsule of 10 tracks of imaginative perspectives on human life.
MAS1A of complex hip-hop flows switches effortlessly to dancehall chanting, as showcased in her international underground hit, "Warriors Tongue". She unabashedly celebrates her cultural mashup, and derives joy through expression in all forms, be it music, visual art or fashion design. Masia has also rocked audiences around the globe with her reputation as a soul rebel. The release of Bootleg Culture, produced by Che Pope (G.O.O.D. Music, Kanye West), put Masia on a world tour in 2013 visiting Jamaica, the US, Canada, Germany, Sweden, Malaysia, the Philippines and Singapore (homeground!).
Capturing the quintessential spectorgaze-esque sounds of classic girl-group pop highlighting bittersweet tales of love and loss is Singapore's OBEDIENT WIVES CLUB. The fuzz pop quintet's Cinematica, a five-track EP and its third, was released 14 July 2017. Among the production credits: legendary Singaporean musician Patrick Chng (Oddfellows, TypeWriter), American producer Brad Wood (Smashing Pumpkins, Liz Phair), American mastering engineer Hans DeKline (Pixies, Snoop Dogg), and its own guitarist, Keith Tan. Before Cinematica, there were two EPs: Obedient Wives Club (2011) – rated one of SEA INDIE's top 10 Best Indie-pop Releases in 2010/11 – and Murder Kill Baby (2013).
THELIONCITYBOY is a son of Singapore. The rapper, producer and songwriter is most famous locally for radio favourite "YAYA ft. Benjamin Kheng", receiving over a million online streams to date. After three EPs –Let's Talk About Kevin Lester (2010), Everything You Love, You Hate (2013) and Put Your City On (2014) – he dropped his first full-length album, Paradise, on 26 August 2016. THELIONCITYBOY is ready for an explosive set at Laneway Festival Singapore.
THE RANSOM COLLECTIVE Life has not been the same for THE RANSOM COLLECTIVE since it emerged the winner in Wanderband, a competition in the Philippines among up-and-coming acts three years ago. The six-piece indie folk band soon found itself playing throughout Manila, introducing its distinctive sound that merges unique percussive patterns, acoustic guitar-driven leads, melodic violin phases and full vocal. The Ransom Collective's self-titled EP was released in November 2014, followed by full-length album Traces in May 2017. Both received high praise from music critics and peers.
Singaporean TIM DE COTTA makes no bones about being a purist. The R&B and hip-hop vocalist, bassist, songwriter and producer is moulded by Maxwell, John Legend, Common and Mos Def while his bass-playing is styled along the lines of Derrick Hodge and Stuart Zender. De Cotta is reputed to push the boundaries, in both writing and production, and this trait is evidenced in his collaborations with TAJ, L.A.B, neoDominatrix and Kilo Habit. We can't wait to see him in 2018.
____
Here's the rest of the festival's lineup for 2018!
In alphabetical order:
Aldous Harding – Amy Shark – Anderson .Paak & The Free Nationals – Billie Eilish – Bonobo – Father John Misty – Loyle Carner – Mac DeMarco – Moses Sumney –  Rolling Blackouts Coastal Fever – Slowdive – Sylvan Esso –  The Internet – The War On Drugs  –  Wolf Alice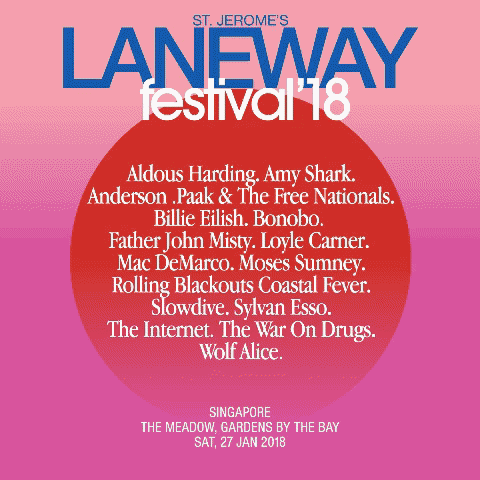 Mesmerising New Zealand artist ALDOUS HARDING has emerged as one of the year's most exciting voices.  Igniting interest two years ago with her eponymous debut album, Harding quickly became known for her charismatic combination of talent, tenacity and shrewd wit. This year's follow-up, Party, sees Harding shape-shift through a variety of roles: chanteuse, folk singer and balladeer, all executed with her twisted touch of humour, hubris and quiet horror. Watch her recent performance on Jools Holland for an inspired, haunting rendition of 'Horizon', a career-defining moment that brought her the attention she deserves.
AMY SHARK's sleeper hit 'Adore' has amassed over 25 million streams since she uploaded it to triple j Unearthed just under two years ago. Earlier this year, it rose to #2 on triple j's Hottest 100, and peaked at #3 on the ARIA chart. The brooding, coming-of-age track won fans on home ground in Australia and abroad, including actress Lena Dunham, who was not exaggerating when she said it saved her life. Her debut EP Night Thinker, which features chart mainstay 'Weekends', is confirmation that Amy Shark is the real deal.
We are psyched to have with us one of the world's most exciting live acts, ANDERSON .PAAK & THE FREE NATIONALS. Breaking out via multiple lauded appearances on Dr. Dre's surprise 2016 album Compton, .Paak has emerged as one of the most talented triple threats of the decade. The LA-based singer, songwriter and producer is a genre-bending master, effortlessly melding '60s funk, '70s soul, hip-hop, R&B and electronica in his own music (listen to his brilliant 2016 album, Malibu) and lending his syrupy vocals to killer singles like Kaytranada's hit, 'Glowed Up', and Snakehips' 'Money on Me'. As one of the most prolific and hardworking artists in the biz, we're anticipating new music very soon. Anderson .Paak is a genuine star, and it is a major honour to have him and his band join us in 2018.
BILLIE EILISH is an unfairly talented teenager with a startlingly mature outlook and an irresistible voice.  Billie's meteoric rise began in 2015 when she uploaded 'Ocean Eyes' to SoundCloud. She instantly became a phenomenon: an international record deal, over 90 million cumulative streams, global praise from Vogue, Interview Magazine and Elle, and the list goes on. At 16 years old, Billie will be the youngest member of the Laneway touring party. Billie has an undeniable gift for pop songwriting, an impervious sense of self and an inimitable style. We're certain that Billie will be a Laneway 2018 standout.
Illustrious UK producer BONOBO's steady but unstoppable rise began at the turn of the millennium. Since then, he has launched an impressive six full-length releases – including 2017's masterful, magisterial Migration – and earned the title as one of the best electronic acts in the business. First as a DJ in the UK's thriving club scene, and now with a live band in tow, Bonobo has converted thousands of people around the globe into fans. Listen to 'No Reason' (feat. Laneway alumnus Nick Murphy), and get ready for a spectacular aural journey at Laneway 2018.
Your secret crush, FATHER JOHN MISTY, is heading to Laneway in 2018. The alias of singer-songwriter Josh Tillman, FJM has released three widely acclaimed albums – Fear Fun (2012), I Love You, Honeybear (2015) and Pure Comedy (2017) – plus his recent single, 'Ballad of the Dying Man', and has also contributed to Beyoncé and Lady Gaga songs. Pure Comedy, FJM's latest album, is a complex, often sardonic and equally touching meditation on the confounding folly of modern humanity. He is a sarcastic and caustic, yet sincere voice for the post-internet age.
Erudition, insight and poetic intensity have earned 22-year-old LOYLE CARNER the respect of all the right people: die-hard hip-hop fans, industry insiders and his peers. His debut album, Yesterday's Gone, is planted at an intersection between the boom-bap of East Coast hip-hop, jazz-inflected portraits of South London and soulful laidback pop. It is an intensely personal and candid release, one that received near perfect reviews everywhere but it's on the live stage that the endlessly charming Carner truly shines.
We're pleased to welcome our pal, MAC DEMARCO back. A modern poet and consummate entertainer, Mac has charmed audiences around the world with his woozy, sun-drenched tales of love lost and won. The prolific 26-year-old has written, recorded and released one record a year for the past half decade practically on his own – pretty impressive for the self-proclaimed king of slacker-rock. Mac launched This Old Dog earlier this year, an LP widely regarded as an engaging step forward for an artist in his prime. It's a thrill to have him back.
When Pitchfork's main criticism of your EP is that it's too short, you know you're doing something right.  LA singer-songwriter MOSES SUMNEY's angelic, electro-folk music is basically faultless. Set to swirling synths and dark, expansive production, Sumney's voice is intoxicating and brims with emotion, especially in the spaces where his notes linger. Listen to his track 'Doomed' and let it sink in. It's really no wonder Solange wanted to collaborate with him on her 2016 album, A Seat At The Table. Sumney's long-awaited debut album, Aromanticism, was launched on 22nd September to rave reviews by Pitchfork and The Guardian. Be among the first to hear it live at Laneway 2018.
After a rip-roaring 12 months, ROLLING BLACKOUTS COASTAL FEVER is on its way to becoming one of Australia's breakthrough guitar bands. Having honed their craft in the thrumming confines of Melbourne's live music scene, Rolling Blackouts C.F.'s debut EP, Talk Tight (2015), earned them multiple international nods and a stellar 8.0 Pitchfork review. Soon after, the band signed with coveted US label Sub Pop (The Shins, Beach House, Fleet Foxes), and plugged away at their sophomore EP The French Press (2017). The brilliant effort beams with the confidence and purpose of golden-era Australian rock and roll, featuring three songwriters growing in stature and voice.
22 years since their last record, SLOWDIVE has made a resounding comeback with their self-titled fourth LP, one of the strongest shoegaze albums of recent years. The band's live return has also been rapturously received around the world. Highlights to date include a festival-conquering, sea-of-devotees Primavera Sound performance, of which Pitchfork noted: "The beauty of their crystalline sound is almost hard to believe, every note in its perfect place." Dive into their outstanding catalogue (1991's Just For A Day, 1993's Souvlaki and 1995's experimental Pygmalion) to see why Slowdive has a legion of fans, both new and old. Listen to their gorgeous new single, 'Sugar For The Pill'. We wish every band would age this well.
SYLVAN ESSO's sophomore album, What Now (2017), is the sound of a band truly fulfilling the potential promised by their debut album. Everything has evolved: The production is bolder, the vocals are more intense, the melodies are brighter, and the songs are that much more expansively open and cohesive. The electro-pop duo from North Carolina, comprising vocalist Amelia Meath and producer Nick Sanborn, started out in 2014 as a collaborative project between two new friends. Two records and more than 100 million streams later, Sylvan Esso has perfected the art of writing a pop song. The album's third single, 'Die Young', is proof. This set is going to be energetic fun.
THE INTERNET absolutely stole the show when they last played at Laneway Festival and they've only gotten bigger, better and sexier since. On their third album, the game-changing, Grammy-nominated Ego Death (2015), the Odd Future offshoot truly came into their own. Then to everybody's surprise, they went out on their own. Front-woman Syd shared her intricate, soulful debut album, Fin and Matt Martians dropped his funk-infused solo endeavour, The Drum Chord Theory. The band's 18-year-old guitar whiz, Steve Lacy, is also a highly sought-after hip-hop producer (he's worked with J Cole and Kendrick Lamar) who records everything on his iPhone. This year he shared Steve Lacy's Demo, a dazzling six-song release bursting with ideas. We love them all in equal measure, but we can't wait for their next record as a team. Hear it first at Laneway 2018!
We love THE WAR ON DRUGS. The Philadelphia-based six-piece, led by frontman Adam Granduciel, has been on the Laneway wish list since the release of their debut album, Slave Ambient, back in 2011. Their landmark album Lost in the Dream in 2014 only renewed our eagerness. The War On Drugs released their fourth record, A Deeper Understanding in August, and it's a bona fide masterpiece – one that is sure to top this year's Best Of lists and go down in history as the most important rock record of recent times. The album is a fully immersive experience from start to finish, layering chugging guitars, synthetic strings, vintage keyboard sounds and impressionistic lyrics delivered in Granduciel's gravelly voice.
In 2015, North-London alt-rock outfit WOLF ALICE, led by the electric Ellie Rowsell, released their astounding debut record, My Love Is Cool, to inspire a generation. With its unique combination of grunge, indie and folk influence, it scooped them nominations for the Grammys, the Brits and The Mercury Prize and propelled them into public consciousness as one of the brightest new hopes in indie-rock. After two years of relentless touring, the release of their follow-up album, Visions Of A Life, was dropped on 29th September. If their new single, 'Don't Delete The Kisses' is any indication, this album will be a career highlight.
Comments
comments